keyboard
Matias Mini Quiet Pro Keyboard Review - Simply, Splendid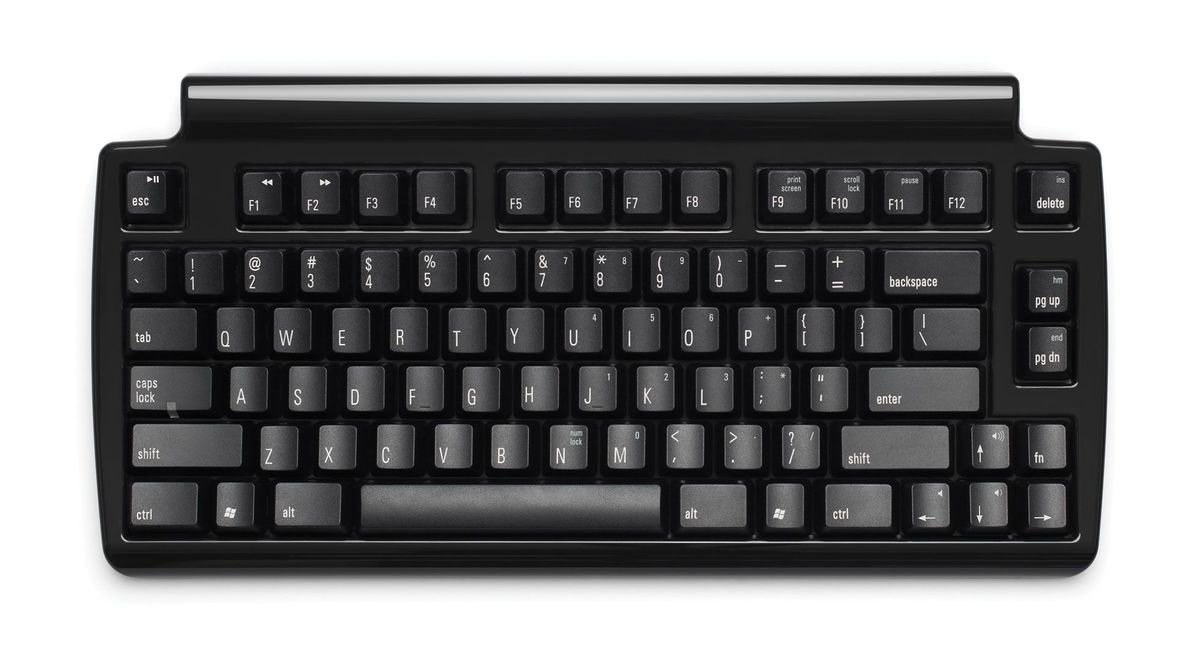 I have a confession to make.
As a freelance programmer for the last 15 years I have been using a $20 keyboard, the Microsoft Wired Keyboard 600. It worked. But that was about the extent of what you could say about it.
Sometimes simple things are great, like that hand-me-down toolbox from Granddad, grease intact. Even if my old Microsoft 600 were to last long enough to pass down a generation (it didn't, this is my second or third), I certainly wouldn't be instilling a sense of pride in one's craft by handing over that cheap plank of plastic.
A keyboard is one of the few computer accessories that is actually immune to Moore's law. When technology has such a short lifespan, it really does make sense to invest in something that will last.
It's also important to consider the environmental impact of cheap products. Barring a worldwide shortage in micro-USB cables, the preferred port for Matias' Mini Quiet Pro (MQP), it's hard to imagine this device not lasting quite awhile. Perhaps I will have the opportunity to hand it down.
I am not an overly technical person. Specifications only tell you one story. Instead, my eyes are drawn to the design, shape, look and feel, sound, key typography, and other aesthetic features.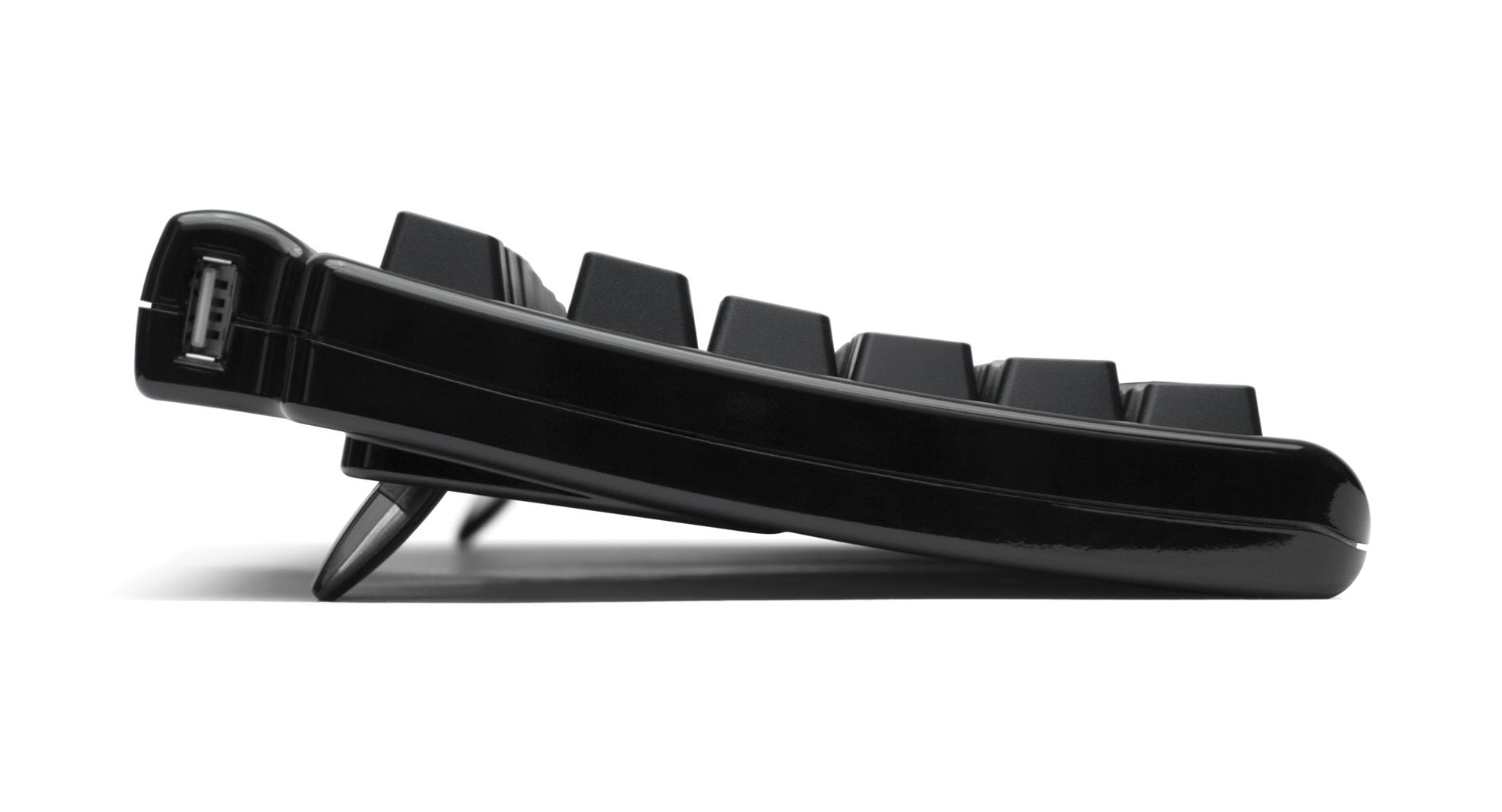 Look And Feel
What first drew my attention to this keyboard was its unique shape. Where most tend to be long horizontally, the MQP has a slightly taller shape. I appreciate that there is adequate spacing between key sets (Esc, F1-F12, Delete, Page keys, etc), no important keys are omitted, and the three USB ports make a welcome presence.
This keyboard is solid and has a wonderful weight. The keys are spacious without requiring any kind of reset in muscle memory. Key top surfaces are such that your fingers find the optimal key position immediately and comfortably, without any kind of slide.
Key height is noticeably taller than cheaper keyboards. This allows my fingers to rest more comfortably.
My only disappointment is the gloss of the keyboard body that houses the keys. It's an aesthetic thing, and does not impact functionality in any way. Actual keys are matte and marks and prints are not visible.
As a tool, the MQP looks and feels awesome. It's solid, durable, and if there was such a thing as a professional keyboard, this is it.
Have you ever bought a $1 screwdriver? Have you gotten to the point where you got tired of buying new, cheap, screwdrivers and finally treated yourself to a $15 one and then immediately felt the difference in weight, shape, and other considerations? This is like that.
Shape and Size
By the time I plugged in the keyboard and positioned it on my desk, it was ready to go. The drivers install natively (without any additional drivers).
Straight away the biggest thing I noticed was how much more compact it was on my desk. With the added space I was able to sit more comfortably and not have to stretch to reach my mouse.
The added space feels considerably more efficient, but also physically more comfortable. I cannot point to any concrete tests, but I have no doubt that over time this will have a positive impact on my body as I am not having to stretch as much to switch between using the mouse and keyboard.
Sound
Key presses produce a sound that is balanced. There is an audible click, but it's dampened, perhaps a clack? Dack? It's in no way obtrusive. You can rest easy that you will not have to worry about annoying anyone.
I never gave the sound of my Microsoft 600 any thought, whereas I enjoy using and hearing my MQP every day. Perhaps this is one of those reasons that people can be so passionate about mechanical keyboards.
Keys
Coming from a full-size keyboard I was a little concerned that I'd miss the number pad and other keys. With the exception of two keys, Home and End, I haven't noticed.
I bring up Home and End only because as a programmer in my particular development environment I use those keys often. After a few hours of fumbling to use the Function + Page Up to access Home or Function + Page Down to access End, I remapped the Page Up to Home and Page Down to End using Sharpkeys and I am back to complete efficiency.
Actually, I'd say my typing is even more efficient. The reduction in number of keys means that I can't accidentally hit other keys when I'm aiming for Home and End, because there are no other keys.
Connectivity
"There are too many USB ports!", said no one, ever.
The presence of three USB ports is a wonderful addition. They're fast and well positioned.
My only confusion is with the included Micro-USB cable that connects the MQP to your computer. This does not count as one of the three USB ports. The cable juts out to the side rather than back, so rather than being able to 'quickly' sneak your cable to the back of your desk, it snakes to the side.
UPDATE: Matias quickly let me know that there's actually a thoughtful reason for this style of USB cable - laptop users. Utilizing an L-shape USB cable allows one to comfortably situate a laptop directly in front of the keyboard. For the rest of us that are bothered by such triviliaties it's easy enough to switch out for a standard USB cable.
Eco-Friendly
Designed in Canada and constructed in Taiwan and China, the MQP was not made with any particular environmental considerations. However, there is no arguing that if well taken care of, you could very well be using it for a long time to come.
Font
Notice it or not, fonts can have a pretty sizeable impact on how something feels. I was pleasantly surprised to see that Matias put some thought into the MQP's key typeface. It's a fresh, lanky font that is immediately clear and legible.
Placed in the bottom-left corner of each key, with shift-key symbols in the top-left and Function labels in the top-right, each symbol is tall and can easily be read from a distance if you should need to reorient yourself from time to time.
It matters because it's yet another element that points to a tool which was created intentionally in all aspects.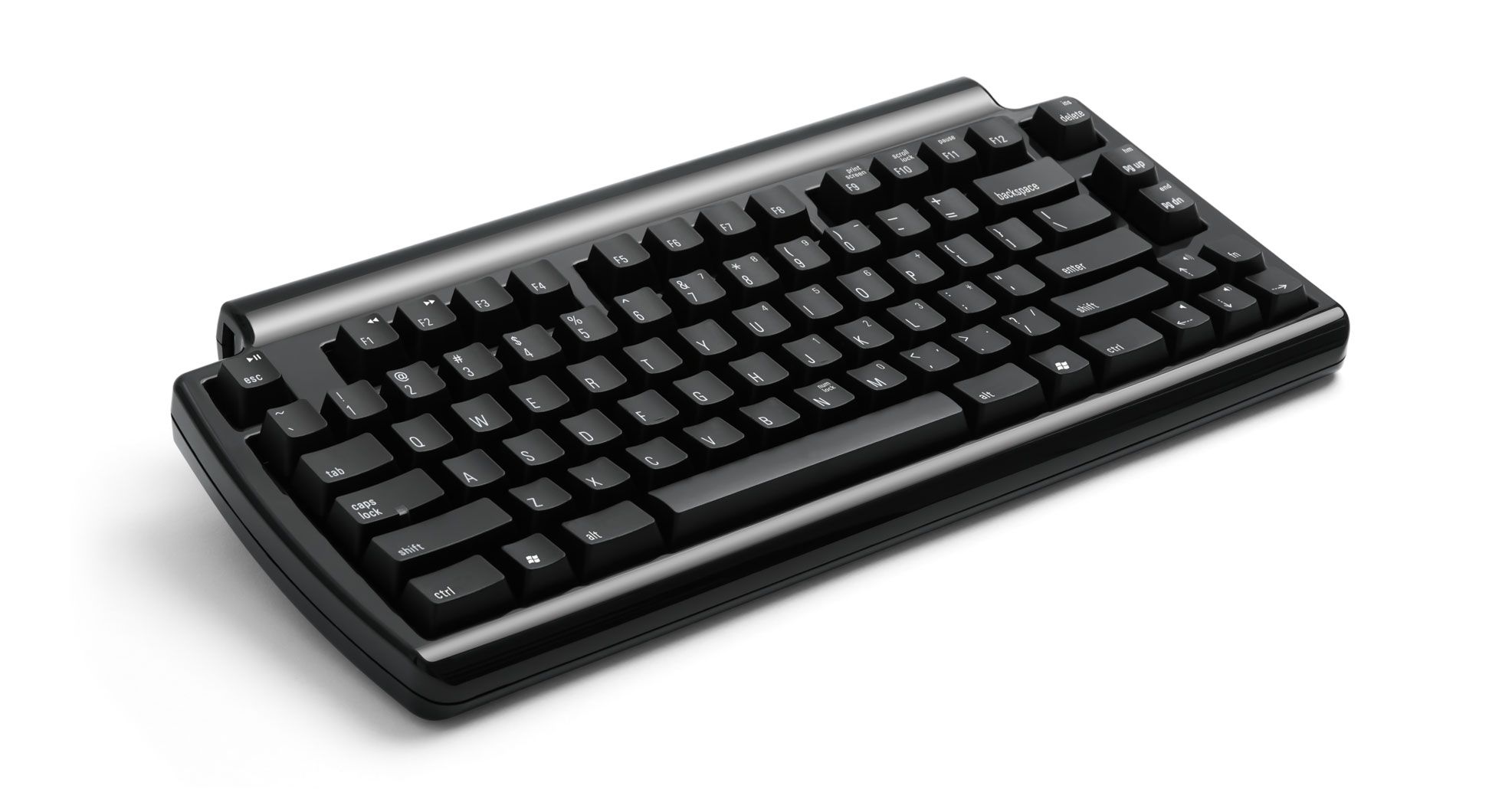 Overall
Something I had not at all expected was the impact this keyboard would have on how I feel. Yes, it feels solid in the physical sense in that it's constructed well and built to last. However, with all of the factors working together - the construction, the way it takes up less space and looks on your desk, the way it feels to push each key; I am left feeling more inspired and empowered to do my work.
The Matias Mini Quiet Pro is a professional tool that's built thoughtfully, durably, and with a balance that should suit most typers that are looking for a perfectly balanced keyboard.